July 30, 2013 3:25 PM | John Polson
Midway Games turned indie dev Alan Noon reveals his new game Castle Breakers and announces a new game he found, too
The hook: Inspired by the block breaker games of yore, Castle Breakers is a physics driven, action adventure RPG title, wrapped in a 3D, pixellated fantasy theme.
Release info: Currently targeting iOS and Android. Other platforms and pricing TBD
Screenshot info: This is a screenshot of the testbed level I have been using to implement the various features of the game. For lack of a better term, the art style is "neoretro" in that the content is executed in a low fidelity, pixel/voxel style, but with high end lighting and rendering techniques.
We see the player character directing his attack at the targets on the field by way of swinging his sword and striking the wrecking ball. In the HUD, you see counters for player health, number of wrecking balls remaining, enemies defeated, and coins collected. (Subject to change)
You may also notice some of the persistent destruction laying about in the form of pixellated debris from previously destroyed bricks and voxel trees.
Earlier iterations: I do [have them], but release of those will be at a much later date, if at all. Probably not.
The devs and tech behind the screens: I am currently the sole developer, building the game and writing code in the Unity Engine, using Qubicle Constructor, 3dsmax, and Photoshop for the art content.
The selection process: I chose this screenshot to be the initial release as it provides a high level view of the general concept and game play, while communicating the look and theme for the project. There are also a number of finer details present for people to speculate upon that I will address as time goes on.
Based on my previous experience in AAA game development, I am very aware of the importance of broadcasting a focused and consistent message when it comes to marketing materials. I did not feel that the game was visually up to par for public consumption until recently. You only get one chance to make a first impression as the saying goes!
How can people follow you? There is an @CastleBreakers Twitter that will supply official CB communications shortly, but for now, fans can follow my personal twitter @AlanNoon (if they dare)
The Castle Breakers Facebook page is in progress, as is the Kickstarter Campaign.
Pay it forward. What game caught your eye this week?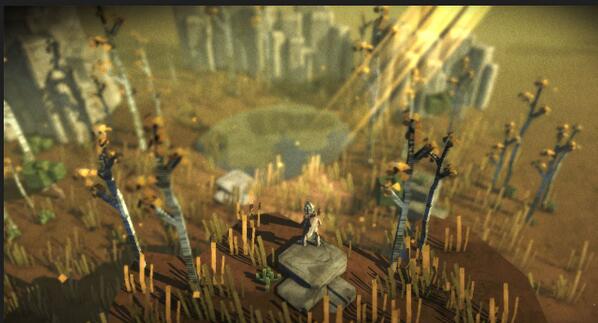 [adventure RPG Unfolded, Crescent Moon Games publishing, Blowfish and Witching Hour developing]
Really nice rendering and style going on in this image. Very curious as to the what the game play is like. Is there exploration? This looks like a world I would like to visit. I will be watching this one.