August 21, 2013 11:41 PM | John Polson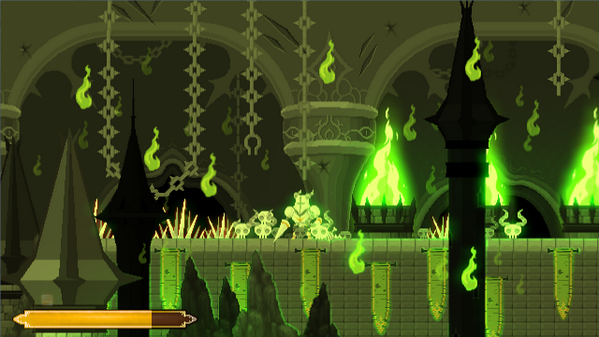 Dario Seyb on Specter
The hook: Specter is a 2D action-platformer that provides the player with a massive arsenal of attacks, which are used during both combat AND platforming. When we say "action-platforming," we mean it!
Release info: Platforms: Windows (Linux, and Mac later on), Maybe: PS Vita. Price, date available: TBD
Screenshot info: The screenshot shows a small test level Blair (the art/design half of the team) made to try out a few new assets he made and a features I implemented and how he can use them in future levels.
Most notably: The foreground parallax:
Less obvious: Small objects being in front of the player.
The level is literally called "Gnarly test". In it's current form it's probably too busy to end up in the game, but it's cool to see what the engine is capable of none the less. There isn't much gameplay to see, except for maybe the spikes, which damage you when you step on them.
We have a pretty outdated gameplay trailer:
And a more recent development update:
The devs and tech behind the screens: Blair Ceradsky (unfortunately he is a little internet-shy and doesn't have a website) did all the art, game design and level design. I am responsible for the coding.
The art is done in Photoshop and Graphics Gale. The game is made with XNA (I'm almost done with a MonoGame version) and a custom engine build on top of it. The videos are made in Adobe After Effects and Premiere Pro. For the gifs I use Fraps + VirtualDub.
Choosing screenshots: We share screenshots of our progress because we think that it's a great way to get in contact with other developers and some eyes on the game. I choose the ones I share based on what I think looks awesome. Blair always finds new ways to push my code to new levels, visual and gameplay wise, and I want other people to see that!
How can people follow you? You can find me on Twitter. (Most of my posts are about Specter, anyway) and the game on Facebook. We have a website with a blog, as well.
Pay it forward. What game caught your eye this week?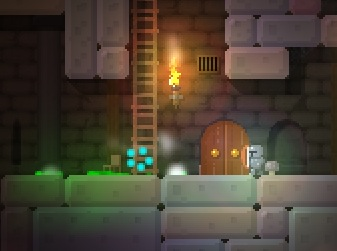 I've been following nickd3000 lately. His game "The Dungeoning" looks awesome, and there is a free demo available:
[Screenshot Daily takes a closer look at the games of Screenshot Saturday, one photo at a time. Earlier Screenshot Daily conversations are here.]