August 19, 2013 10:53 PM | John Polson
The hook: Epic Minds CEO "Mhyre" - Midora is a love letter to the classic action-adventure style gameplay mostly inspired by the 2D Zelda games.
Release info: My team and I plan on releasing this game on Windows, Mac, Linux in early 2014 if everything goes right. We also plan to make an iOS, Android version of the game if it is popular enough and time/money allows it.
Screenshot info: We wanted to recreate the same cute and fun experience from The Legend of Zelda: The Minish Cap, which is why the gameplay and the art is very much inspired by that game. There's not much going on actually, as the game is still very much a prototype!
The devs and tech behind the screens: I recently hired 5 people to help me make Midora come true. Midora is 100% pixel art, which means everything is crafted on the pixel level by our fantastic chinese artist, Zhi. We chose to combine C# and XNA to create Midora because it allows for fast development and is very easy to use. That being said, it would have not been an obvious choice a few years ago because both C# and XNA are Windows only.
Today, thanks to Mono Game, we can hope to see the release of Midora on most known platforms, just like the very popular indie game Bastion, which used the same technology.
Screenshot selection process: -I very much like the concept of Screenshot Saturday, so I like to get screenshots as I test the game myself. With one screenshot a week, I like to tell a story as I go through the levels we made so far (one screenshot was outside the abandoned house, this week's screenshot is inside the house!).
How can people follow you? -Midora doesn't have an official twitter yet so I am mostly tweeting about it, but we do have a Facebook page. We also have a complete website where you can learn about the game (story, characters, screenshots, music) and possibly help fund it!
Pay it forward. What game caught your eye this week?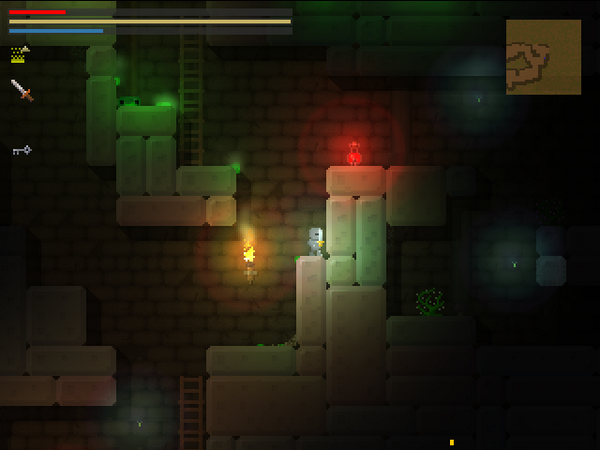 There's a game I have been watching on Twitter for a few weeks now called The Dungeoning. It looks cool and reminds me of so many games and, even though it's a small game, I still adore that kind of short experience. Permadeath also sounds interesting to do, might be a thing in a future game my team and I will create!
[Screenshot Daily takes a closer look at the games of Screenshot Saturday, one photo at a time. Earlier Screenshot Daily conversations are here.]