October 17, 2013 3:45 PM | John Polson
Sean Barrett's Dungeon Miner won me over earlier this week, and upon his recommendation, I gladly dove into another of his creations, u r bein' sneaky. This one ditches the digging mechanic and instead imposes close-call, turn-based stealth puzzles with laser-shooting robots and rotating spotlights.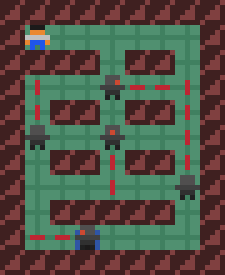 Sean's pacing is gradual, but increasingly tough, starting off with robots that can shoot only in their line of sight (be careful when they turn around). Later, spotlights revolve in four turns clockwise, and later still, the game throws both variables together. Even later, well, I'm not that good enough yet to tell you.